Installation view at "Shadows Cast Shadows -Domain of Art 20" (2018), Plaza North, Saitama, Japan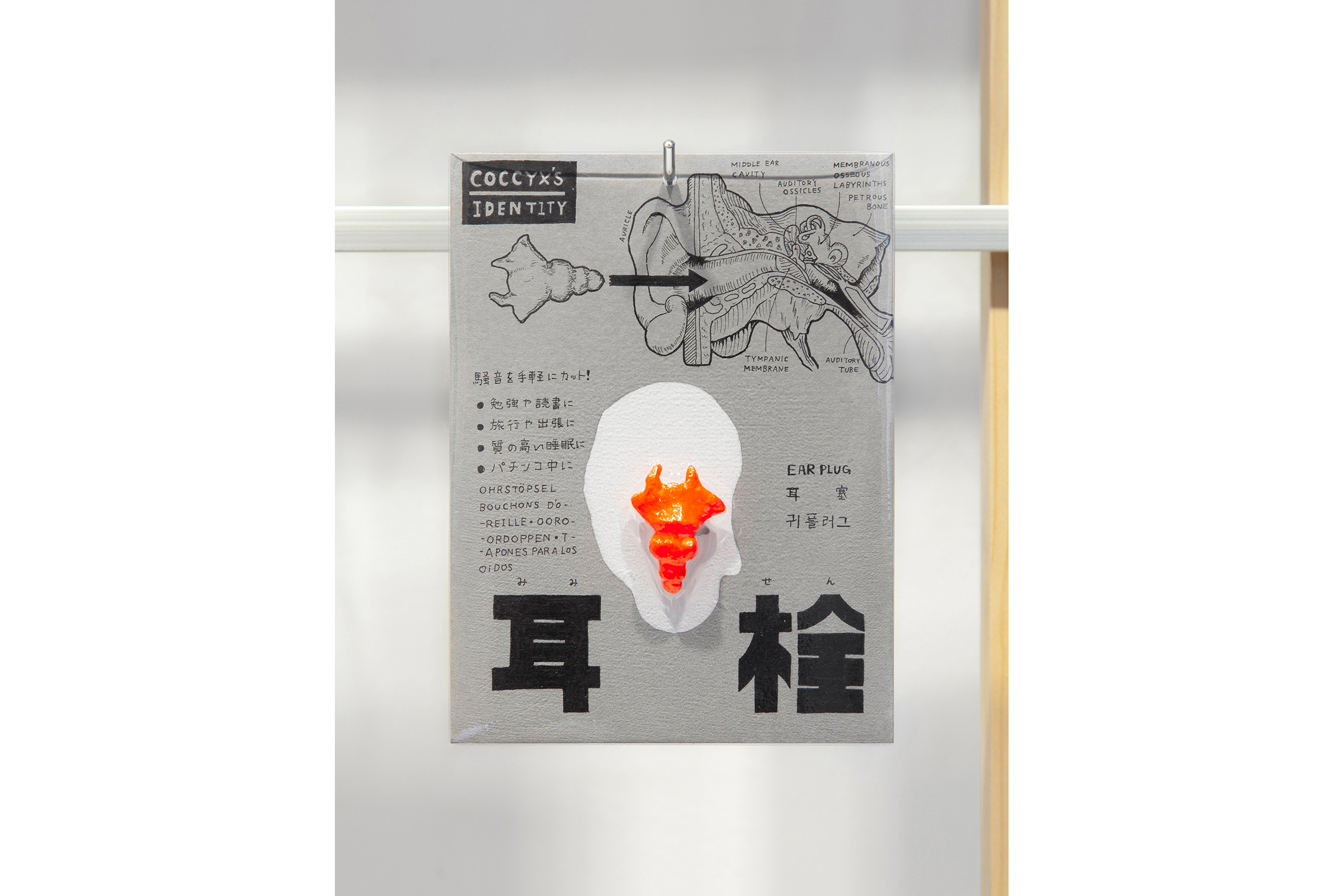 Coccyx's Identity Crisis no.7 (2017)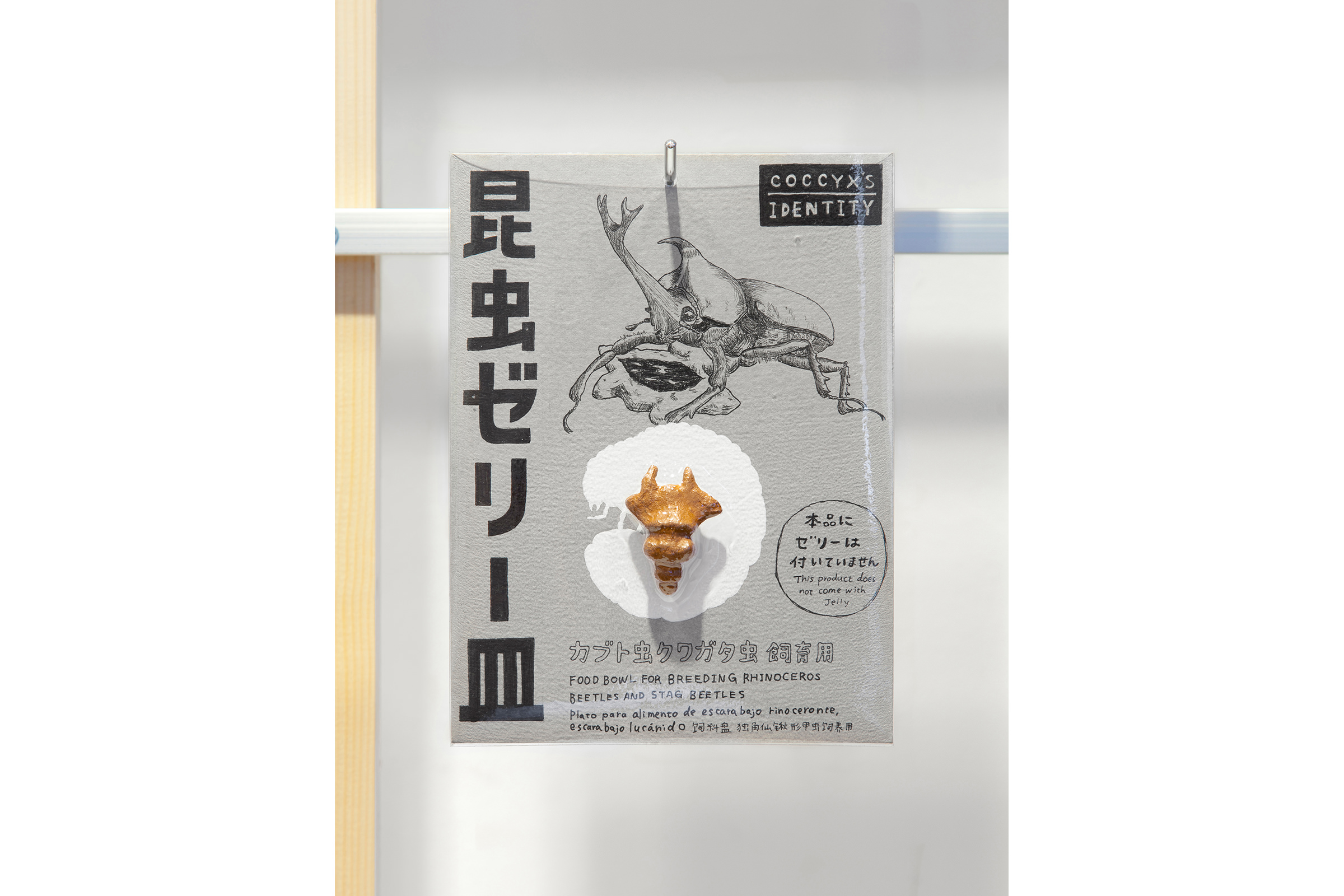 Coccyx's Identity Crisis no.24 (2017)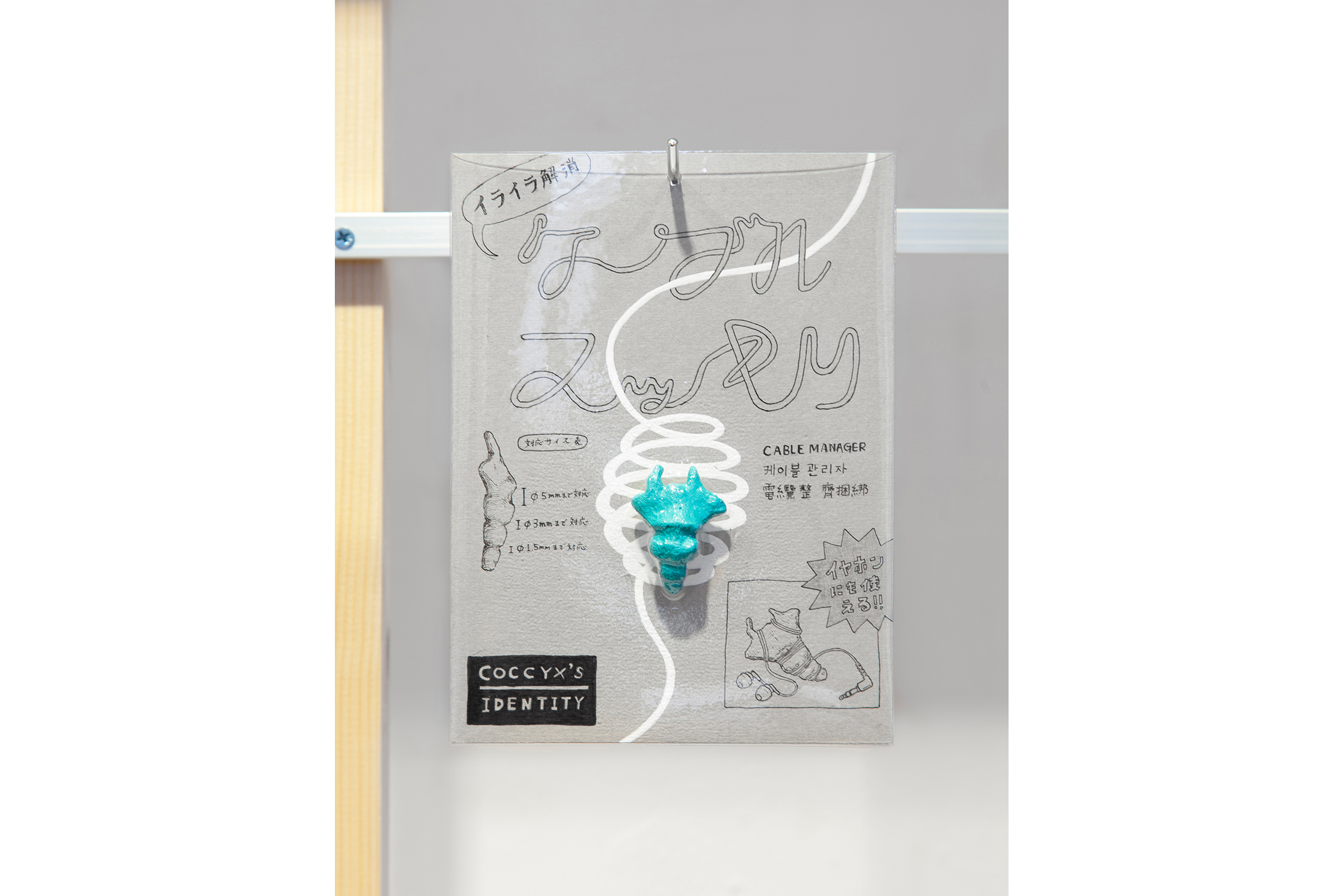 Coccyx's Identity Crisis no.6 (2017)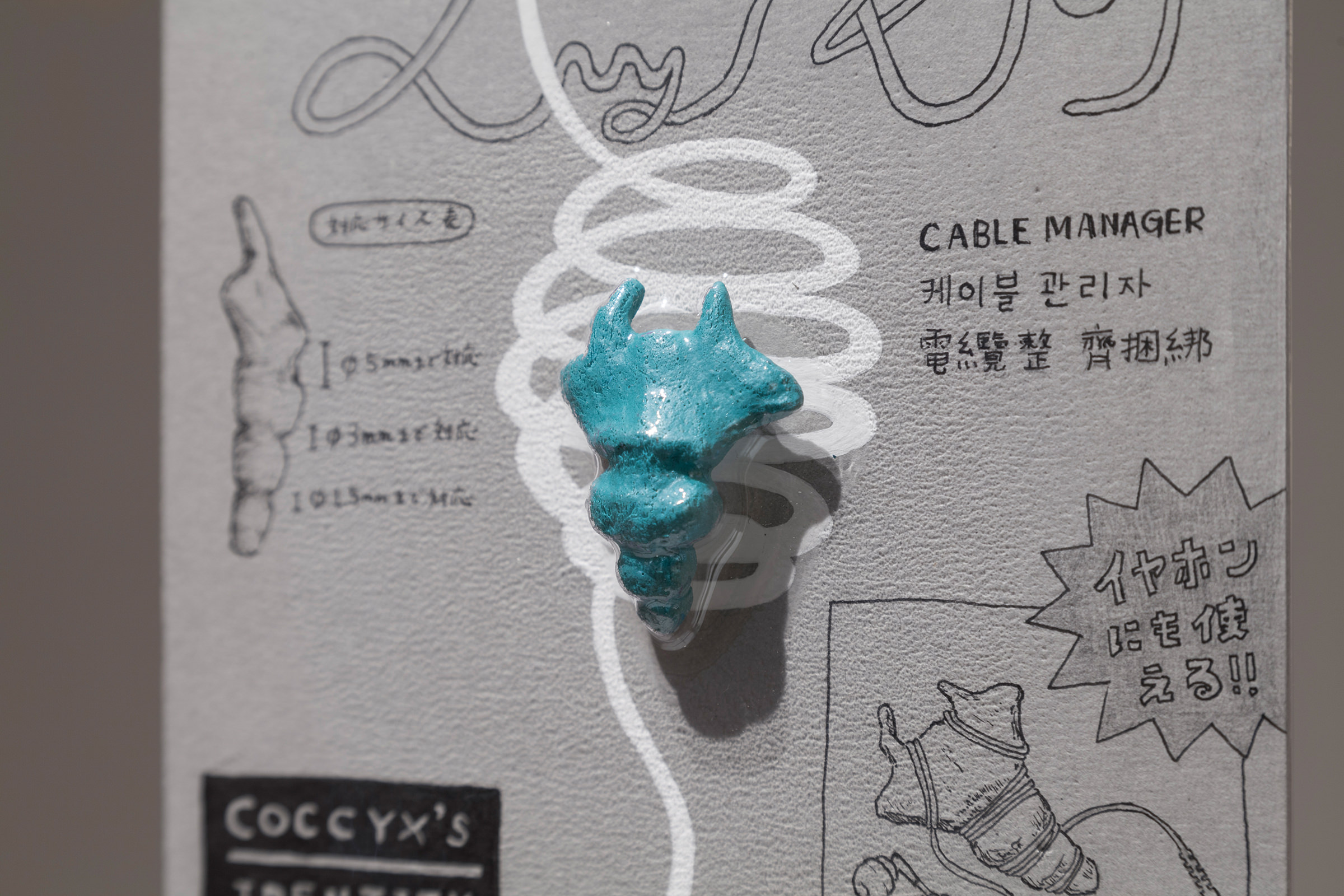 Detail of Coccyx's Identity Crisis no.6 (2017)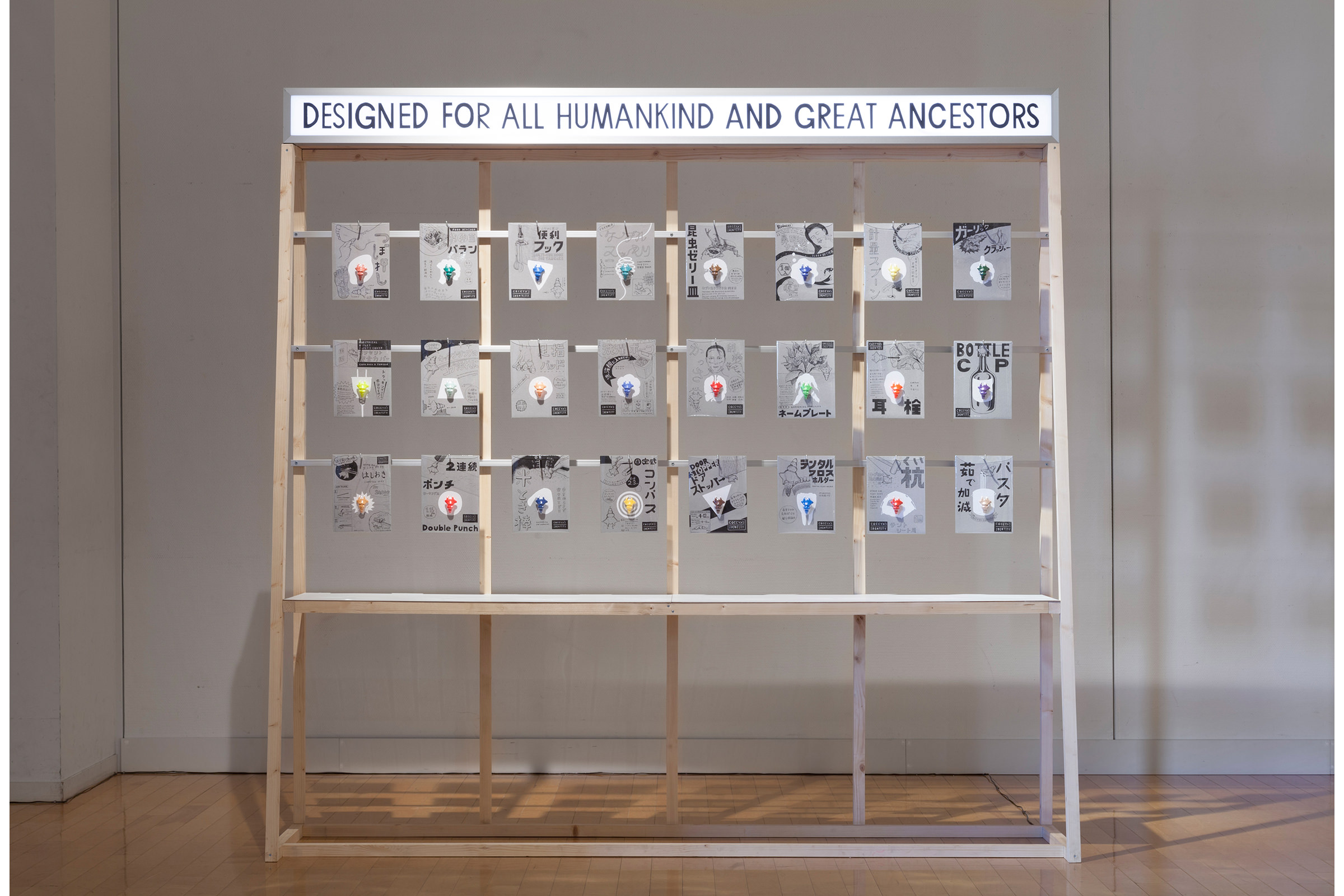 Installation view at "Shadows Cast Shadows -Domain of Art 20" (2018), Plaza North, Saitama, Japan
Coccyx's Identity Crisis
Anzai invented a set of everyday purposes for a human bone which does not seem to have a clear function. He created reproductions of a coccyx and packaged them as if they were commodities found in a supermarket.
According to the theory of evolution, it is often said that the coccyx is a remnant of a vestigial tail and therefore, has become useless in the process of evolution. On the other hand, those who deny the evolution theory claim that the function of a coccyx is yet to be discovered. In fact, the discussion of the functions of some human body parts remains controversial; for example, in the past, a spleen was considered a vestigial organ, and a function of a vermiform appendix, a well-known vestigial organ, evolved from its original function seen in herbivorous animals to serve a function more suitable for human beings. In the same way, the meaning of the coccyx's form is yet to be defined.
The coccyx could be conceived as a pure abstract sculpture in terms of its relationship between form and purpose. Although even so-called masterpieces of abstract sculpture are inevitably affected by a certain degree of human intentions since they are essentially human creations, the coccyx remains devoid of clear meaning or purpose despite being part of a coherent system of human skeleton. Therefore, there is no doubt that the form of the coccyx, which seemingly has no obvious function, was designed by some higher power beyond humans, whether one believes in God or not. We are all genetically programmed to carry the abstract form of the coccyx at the bottom of the spine.
ヒトの骨格において、機能的な目的がはっきりとしない形をもつ尾骨を複製し、パッケージ化することで日用品として様々な目的を与えています。
尾骨は痕跡器官と言われ、ヒトが猿だった頃の尻尾の名残であり、特に機能的な目的を持たない骨と言われています。ただ、それは進化論からの観点であり、進化論を否定する人々(主に敬虔なキリスト教徒など)は未だその役割が解明されていないだけだ、と主張します。例えば、脾臓などは従来は痕跡器官として役割を認められていませんでしたし、盲腸もよく知られた痕跡器官ではありますが、転用され、草食動物のそれとは違う役割が与えられています。つまりは、尾骨という骨の形のもつ意味はよくわかっていないということです。
形と目的の繋がりという観点から尾骨を見てみると、非常に興味深いことがわかります。尾骨は人体という非常によくできたシステムの中で、目的がよくわからない、つまり、形と目的との関係が曖昧なのです。これはある意味、安西が求める究極の抽象彫刻というモノに近いかもしれません。ヒトの意図が介在しない形、目的を持たないオブジェクト。抽象彫刻ですら、それがヒトの作りしものである限りなんらかの意図が介在してしまいます。その点で、尾骨には少なくともヒトの意思は介在していませんし、他の器官のようには説明づけられていません。神の存在を認めるにせよそうでないにせよ、いまいち目的のわからない尾骨の形を決めているのは、ヒトとは別の次元の何かであることは疑いようがありません。私たち人類全ての遺伝子に、その抽象的な形が刻み込まれているのです。